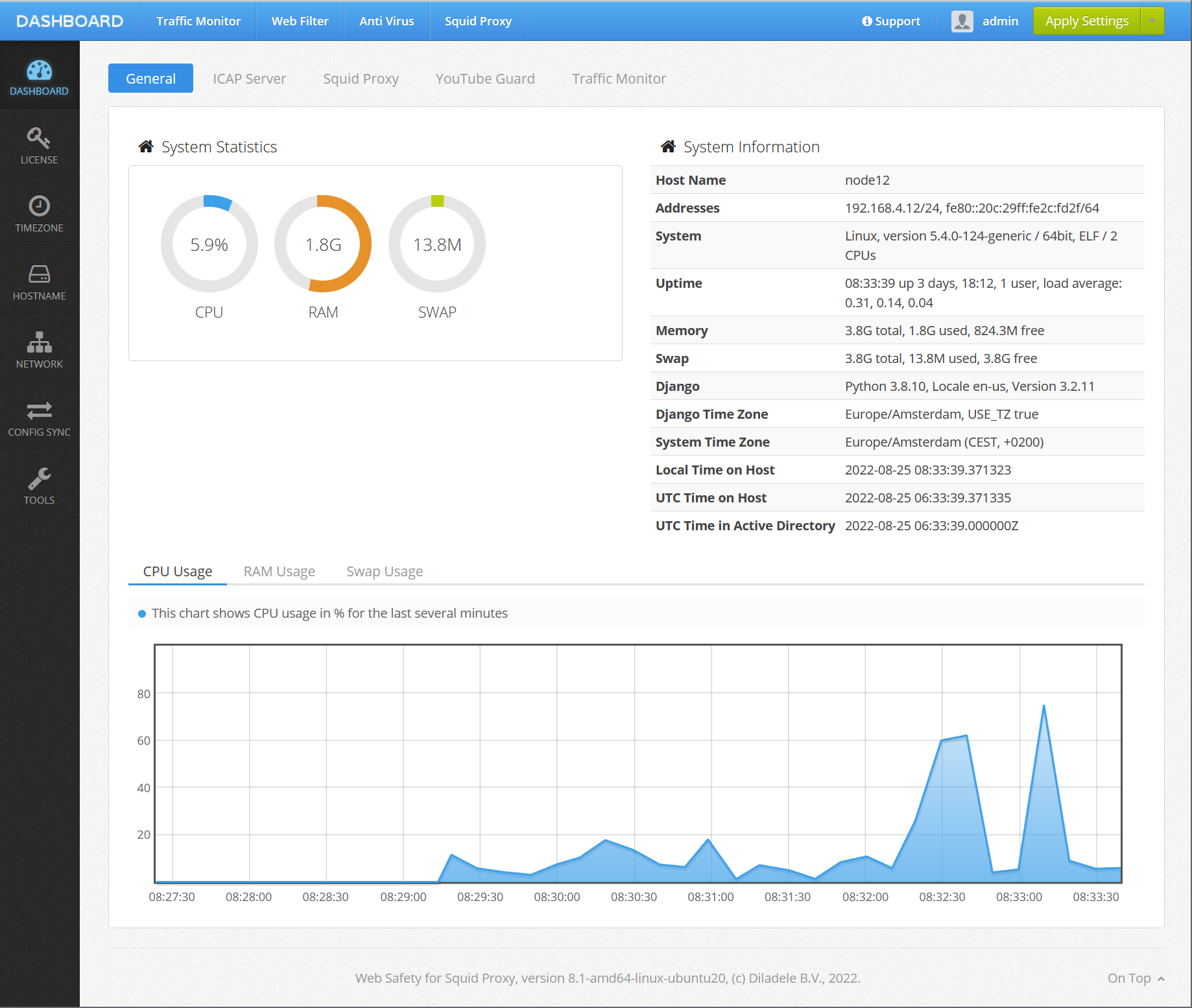 Web Safety Proxy
Simple and powerful web filter for HTTP and HTTPS traffic. Easily deployed in VMware vSphere/ESX, Microsoft Hyper-V, on-premises or Microsoft Azure and Amazon AWS Clouds.
November 11, 2023 / Release of 8.7 Next version of Web Safety is ready for production use. This version adds advanced HTTP filtering rules and improves support for Microsoft Active Directory.
What Can Web Safety Do For You?
Simple and powerful web filtering, easily managed
Filter HTTPS and SSL Traffic
Web Safety is a deep content inspection proxy that has access to actual contents of HTTP requests. This allows it to decrypt, secure and re-encrypt both incoming and outgoing TLS traffic. Questionable content is blocked easily.
Block Adult Sites
Performs deep content inspection of web pages and blocks everything containing adult explicit language and links to questionable content. General purpose web sites (Google Search, Google Images, Bing or YouTube) are filtered as well and inappropriate content is blocked.
Categorize Sites
Blocks access to web sites with inappropriate contents by more than 50 categories (dating, nudity, gambling, explicit adult content, etc). Definition files with categories are regularly updated. Manual recategorization by admin is possible.
Control File Downloads and Ads
Remove annoying ads on any web site automatically with help of AdBlock (Plus) block lists. Prevent download of files by name, real contents and MIME content types. Prohibit access to extremely large files like ISO and disk images, videos and pictures.
Monitor Traffic and Build Reports
Monitor user web traffic and build extensive reports that include visited and blocked sites, user activities, used bandwidth and prohibited domain categories. Save reports locally as HTML files or send them by email.
Integrate with Active Directory
Organize proxy users into groups based on IP addresses, subnets, user names or security group memberships in Microsoft Active Directory. Each group gets its own filtering exceptions and blocking rules. Authenticate your domain users using Kerberos, NTLM or Basic LDAP.
Use Everywhere
Simple deployment in Cloud, VMware vSphere/ESXi, Microsoft Hyper-V or on your real server hardware.
At Home
Filter web browsing in your home network with ease. Assign labels to your children's desktops, smartphones and game consoles. Configure safe browsing and bedtime policy with several mouse clicks.
In School
Use different filtering policies for teachers, staff and pupils. Protect children with help of Internet Watch Foundation prevention database. Restrict inappropriate YouTube content, enforce safe browsing and image search on Google, Bing and Yahoo.
In Business
Integrate with Microsoft Active Directory and centrally manage browsing policies based on security group membership. Prohibit access to questionable and risky online sites. Allow unrestricted browsing at lunch time and strict browsing during working hours.
How does it work?
Deployed in virtual environment or on your real server hardware
User
User tries to access a web site in the Internet. Browser connects to that site either directly or using explicitly configured proxy settings.
Web Safety Proxy
Intercepted browser request and remote site response get into Web Safety Proxy, are analyzed and access is allowed or denied based on configured policy settings. Information about request and response is stored in the database.
Administrator
Administrator configures the proxy and manages web filtering policies using browser based Admin UI.